The Alamo Drafthouse Cinemas are not your ordinary movie houses. Rather, think of them as community cultural centers that celebrate the art of film – in all its many genres – while providing the best  food and beverage for their customers and engaging them in unique cinema experiences. Indeed, for the past twenty years, Alamo Drafthouse has finely-honed the art of producing large-scale, immersive, film-related events all over the United States in all types of locations – from classic movie palaces to underground caves to mountain retreats. It has even screened Jaws on the water with the audience floating around in inner tubes! "One of the benefits of coming into this business – not being a part of it, but just being a movie fan – is from day one, we decided to do a few things differently," says Tim League, company Founder and CEO, in what can only be characterized as a vast understatement.
Beginning with one screen in Austin, Texas in a former parking garage, today, the current Alamo Drafthouse system comprises 190 screens in 25 locations across 18 U.S. markets. "Since we're based in Texas, a lot of our growth, initially, was in Texas – we're in almost every major city," League says. "But over the last five years we've expanded. We have theaters on both coasts. We opened a theater, last year, in Brooklyn, and the year before that in San Francisco. We're opening in Los Angeles and we're looking at developments in major cities across the country."
League admits that building a national chain of movie theaters was not his original plan. "The initial mindset was not to develop a growth business," he says. "My wife and I were coming off of careers in the sciences and were looking for an alternative, and we both love movies. And we made kind of a whimsical decision. On my way to work was an abandoned movie theater, and one day, a 'For Lease' sign popped up on it and that was the light bulb moment. We leased that theater and got into the exhibition business. It wasn't until much later that it developed into a growth business – it was very much a mom-and-pop business."
League says he wasn't really planning to open a second theater, either. "But there was this property owner who gave me a call and said, 'We've got somebody who does your concept moving into town, but you guys are local and we love what you do. If you want to take this location, you can have it. But I have to know by the end of the week and you can't change the lease, at all.' So, thankfully, it was a kind lease and the moment that we opened up our second theater it set a lot of things in motion. We couldn't be everywhere at once, so we developed a team and growth opportunities presented themselves to us. After opening our fourth theater, we realized that we could grow this to be even bigger and, if we grow to a certain size, we could actually make a significant impact on this industry – one that I dearly love. So, as we grow bigger, it allows us to further our mission – to re-imagine going to the movies and making it fun, again."
While having fun at an Alamo Drafthouse Cinema is key, League stresses that for the true cinephile, watching film is a serious pursuit. And his theaters make sure that they can do it, undisturbed. "We have a pretty legendary no-talking, no-texting policy. We like to keep the auditorium safe for true movie fans," he says. "And it's not just an older generation that appreciates the quiet, although it is generally the younger generation that are texting or talking. But we found that if you lay down the rules and the social contract in a serious way, that the real movie fans, regardless of age, will gravitate, and make this their movie theater of choice. I hope that courteous movie-watching is not just a thing of a bygone era." In an attempt to cater to that younger generation of cinephiles, League created a special program for them. "If you are in high school and you fill out a questionnaire and understand the policies of no texting, no talking in the theater, then you can see every movie that we show for five bucks," he adds.
Another thing that differentiates Alamo Drafthouse Cinemas from the larger chains is its no-ads policy. "We don't show ads before movies," League declares. "You're paying ten to fifteen dollars as the premium for a movie; you shouldn't have to sit through ads. So, we've always said 'No' to that revenue stream. This isn't a commodity business for us."
And then, of course, there's the food and beverages. Every Alamo Drafthouse Cinema serves beer, wine and freshly-made, award-winning cuisine, delivered right to a patron's seat. More often than not, the beer is from a local brewery. "We average about 32 beers on tap and at least 80 percent of those are local," League says. "In New York, they're a hundred percent local, on tap. That's one of our brand pillars – to always being supporting local breweries."
And finally, there are the films. At an Alamo Drafthouse Cinema, anything on celluloid has a chance of turning up on the screen."We have one foot in the art house and one foot in the commercial world," says League. "We show classic films, foreign films, documentaries, and indie films, and that allows us to be more profitable by playing a wider range of movies. So, right now, for example, we're playing Star Wars; we're playing La La Land; we're playing Jackie. But we're also playing Elle, which just won the Golden Globe for Best Foreign Language Film. We make it a point to have a pretty diverse slate of films at the theater at all times."
League adds that Alamo Drafthouse Cinemas is also committed to the preservation of 33mm film and that most locations have 35mm projection for repertory screenings. In addition, the company founded the American Genre Film Archive (AGFA) in 2009, a non-profit organization focused on the outlaw exploitation movies that were produced from the 1960s through the 2000s. The collection contains over 6,000, 35mm prints and trailers.
League says that while all 25 Alamo Drafthouse locations are given a certain level of creative freedom, they also must strictly adhere to company values and operating principles. "It's very decentralized," he explains. "We have standards for customer service that everybody lives and breathes by, and we do a lot of monitoring, and training, and coaching from the head office. But the personality comes locally. So, we have a creative manager in each market. We want each theater that we build to be a community gathering point. And the only way you can do that is to be somewhat local."
Although we live in a time when many people prefer to stay home to watch films on Netflix or cable TV, League does not see those outlets as his main competition. "We're competing against the 'go out' options," he says. "We're competing against the best of the best in 'out-of-home entertainment' and we have to be world-class in our offerings. That's what I'm always focused on. I think it's all the more important for us to understand that every time someone makes the investment in time and money to leave the home, they want to have a special experience. So our hope is that we can create a very special memory for people, which takes work and effort. But as long as we can be an affordable great experience against the idea of going to a club, or going to see comedy, or going to a restaurant, then we're fine." Perhaps that's yet another understatement. In fact, in terms of expansion, Alamo Drafthouse Cinemas outpaced the growth of the general film exhibition industry by four percent, last year, and Leagues suggests it's his intention to do that every year. "Our goal at the Alamo: no matter what the industry does, we want to outpace it."
But that doesn't mean that he is ready to open more Drafthouse Cinemas, willy-nilly. "The goal is not to have an overabundance of franchise partners," he avers. "It takes a pretty significant capital outlay and you have to believe in what we're doing. So, we're looking for people with big, multi-unit restaurant experience and a love of cinema, and a belief in what we're trying to do with the brand."
Something that Alamo Drafthouse does do with its brand, and a lot better than its competitors, is staying in touch with its patrons. "We have upwards of 900,000 Facebook followers; about a million emails addresses; and a big profile on all social channels," says League. This large, virtual audience, he believes, has given the brand clout and has, in fact, propelled it to become a promotional partner with some of the big movie studios. "We'll come up with promotional ideas that we'll launch across our system and that we hope will generate national level PR."
Once a single-screen movie theater in a run-down warehouse district in Texas, today, the Alamo Drafthouse Cinemas has grown into a nationwide and nationally-acclaimed chain of film exhibition venues. But founder, Tim League, never forgets what prompted him and his wife, Karrie, to make that "whimsical decision" back in 1997. "I'm actually rather old-fashioned when it comes to movies," he reveals. "I want exceptional presentation, so there are always technological advancements in terms of sound and picture, and we're making a significant investment into technology. But when the lights go off and the picture comes on, and the sound comes on, I want you to be lost in the movie experience. And I hope that doesn't change too much."
AT A GLANCE
WHO: The Alamo Drafthouse Cinemas
WHAT: A film exhibition company with 190 screens in 25 locations across 18 U.S. markets
WHERE: Headquartered in Austin, Texas
WEBSITE: www.drafthouse.com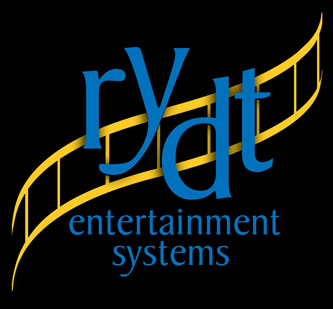 Rydt Entertainment Systems – Rydt Entertainment Systems is a division of Moving Image Technologies, a California-based manufacturer and high-level distributor of standard and custom-designed technology and equipment to the motion picture exhibition industry. Rydt Entertainment provides design, procurement, installation, and service to the creative and production communities for screening, digital intermediate, and other critical viewing rooms. Rydt also provides full FF&E (Furniture, Fixtures, and Equipment) services to commercial cinema exhibitors, including the procurement of seats, lighting, acoustical treatments, screens, projection, and sound, as well as design consultation and installation services. – www.movingimagetech.com/rydt

Sony Professional Solutions of America – A business group within Sony Electronics, Sony Professional Solutions of America develops and manufactures video and audio technologies for a range of professional applications. These include high-definition broadcast television and motion picture production, event videography, ENG/EFP, digital cinematography, digital cinema, videoconferencing, medical, visual imaging, digital signage, and remote system diagnostics and monitoring, as well as IP surveillance and security. These technologies are also used by professionals in a range of market segments including houses of worship, government, healthcare, education, and hospitality, among others. – www.pro.sony.com/bbsc/ssr/home.do